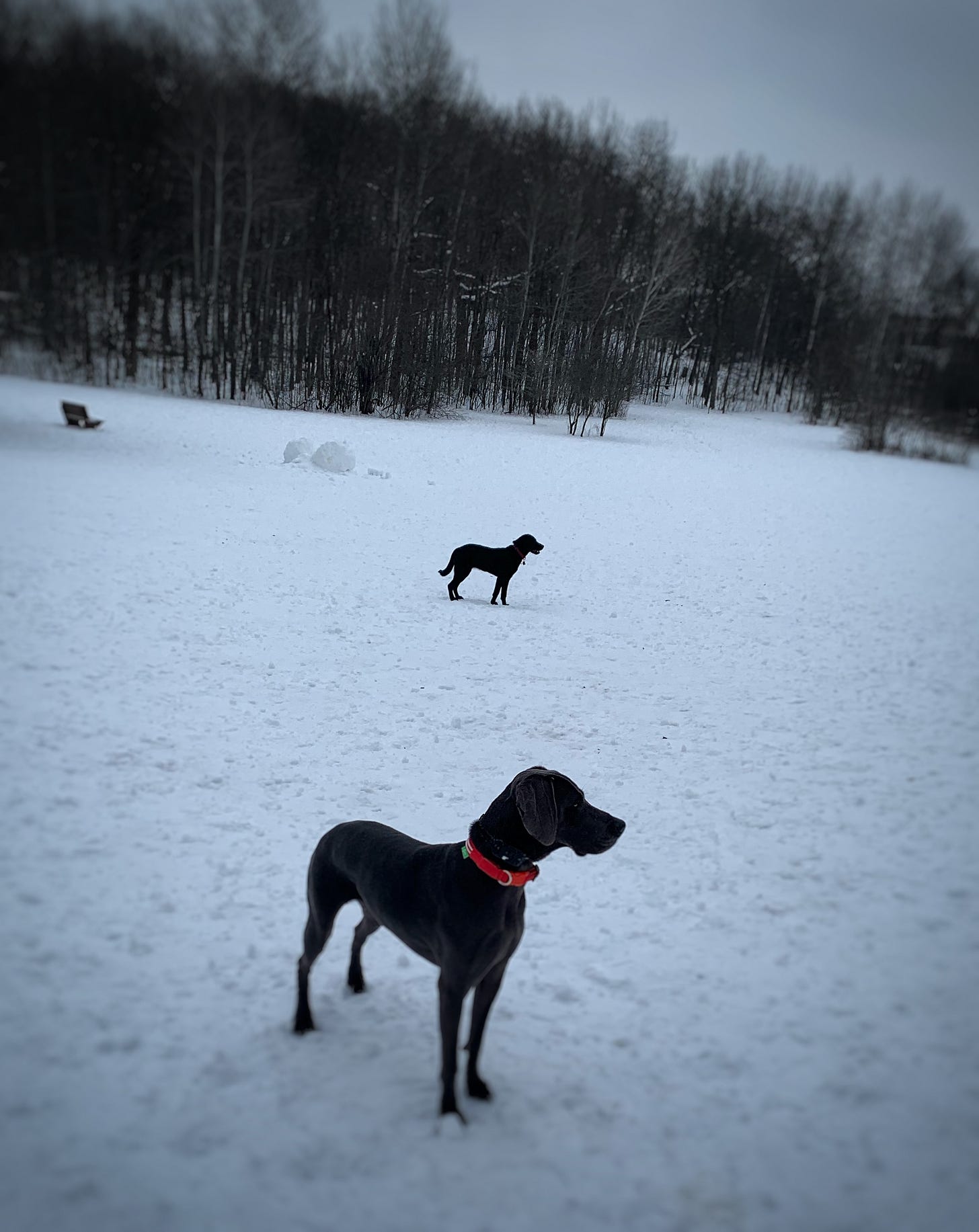 Since July 2019, Henrietta the extrovert has changed my life.
She's incredibly social, and refuses to take "No!" for an answer when she sees an opportunity to mix and mingle.
For example….I took her for a late afternoon walk yesterday and as we descended the hill toward our driveway, Henri plunked her bottom on the frozen asphalt and refused to move. Our neighbor was out in the snow with his son, daughter, English Mastiff pup, and Captain, their ten year old black lab.
Henri wanted in on the action.
No matter how much I tugged and cajoled with my pocket of treats, the stubborn girl refused to budge.
Jax the Mastiff caught sight of us and came bounding down in greeting.
"Sorry to interrupt your game," I called. "Mind if I let Henri off her leash?"
"No! Go ahead," came the reply.
Jax and Henri chased and wrestled for a good fifteen minutes while Captain gratefully watched from the deck. Perhaps he was relieved that somebody else took on the job of wearing out his puppy?
---
In the photo above, Lela the Weimaraner and Henrietta watch as a Labradoodle approaches with fresh legs and new smells.
Standing with Lela's owner, I learned a lot about Weimaraners, other dogs and owners who frequent the dog park, great places to walk in our community, and that as our weather warms, there's going to be a lot of mud.
Hmmmm….he certainly knew a lot. He didn't ask much, and despite my wrinkles, seemed to assume I knew little.
Such is the way of human interaction?
I read that leaders ask four questions in relation to each statement they make.
Interesting?
Anyhow,
my intent when I
started this
letter
was
to tell you that I've observed
the dogs in our lives can have a huge impact on our own behavior.
Mara didn't really care for her fellow canines.
Our walks were solitary affairs.
Henrietta inspires me to connect.
---
What are you paying attention to?
The unexamined life is not worth living. ~Socrates